Levent Kenez/Stockholm
Hotels, motels and guesthouses in Turkey are required to send their daily guest records to the police or gendarmerie via the ID Reporting System (Kimlik Bildirim Sistemi), a database administered by the police. 
Hotel staff enter guests' information into the database through the system's website or applications downloaded to mobile phones. The Turkish police developed a special application for Chinese tech giant Huawei since Android-based Huawei users became unable to download the application from Google Play after Google unilaterally ended its cooperation with Huawei in 2019.
Cyber security expert Murat Çetiner, contacted by Nordic Monitor, thinks the Turkish police recommending an application that is not available on such sites as the Apple Store or Google Play, where applications can be tested, poses a security risk. Çetiner, who believes the police offer such an option so that people using Huawei mobile phones are not at a disadvantage, said that instead of a risky application, directing these users to the police website would be a smarter solution.
Stating that there is increasing distrust worldwide of technology companies based in China and Russia, Çetiner said state-sponsored cyber attacks on the West are mostly made from these countries. "It means that Turkish law enforcement, unlike other police agencies around the world, is not worried about China in terms of information security. This is what this special application means," he said.
Meanwhile, the US administration in November banned the approval of new telecommunications equipment from China's Huawei Technologies and ZTE because they pose "an unacceptable risk" to US national security.
The move represents Washington's latest crackdown on the Chinese tech giants amid fears that Beijing could use Chinese tech companies to spy on Americans.
Then-British Prime Minister Boris Johnson followed the United States in banning Chinese tech firm Huawei as a security risk, ordering it to be stripped from the UK's 5G telecoms network by 2027.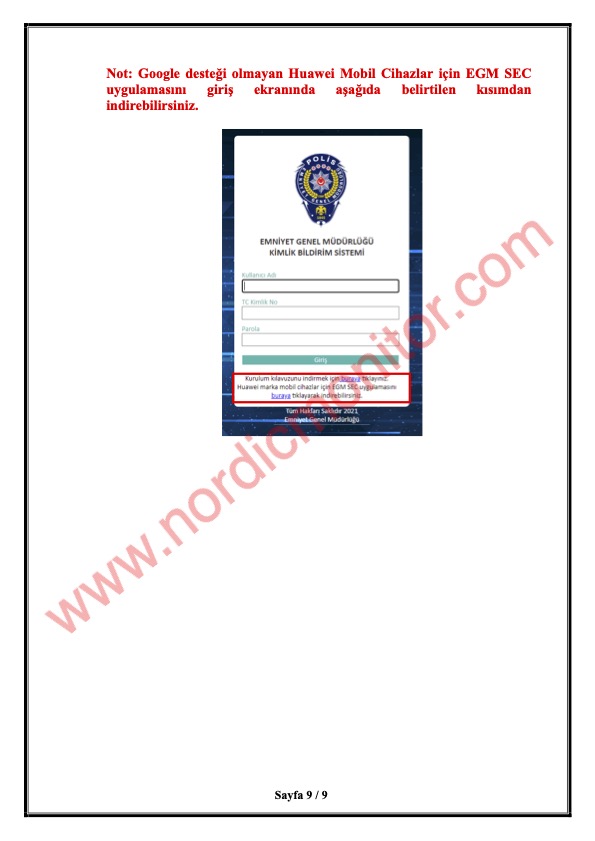 European countries in 2020 agreed on a set of measures called the 5G Security Toolbox to reduce their reliance on "high-risk vendors" for future telecoms networks, in what was widely seen as a policy to dial down procurement of equipment from Huawei and its smaller Chinese rival ZTE.
In 2021 Berlin passed a law allowing government ministries to intervene in telecom contracts with Huawei, but the law leaves a lot of discretion to the government in how it imposes restrictions.  
Huawei was among the top three brands in Turkey in 2021 with a 13 percent market share. The Chinese company, which opened its first Turkish office in Ankara in 2002, established its Istanbul office in 2007 and its R&D center in 2009. Set up with investment of more than $120 million, the center ranks second among Huawei's largest R&D centers outside of China. Five hundred Turkish engineers work at the company.
Huawei is one of the strongest partners of Turkcell, Turkey's largest GSM operator in 5G technology. After Huawei's problems in terms of information security, especially in the US, Turkcell General Manager Kaan Terzioğlu told the state-run Anadolu Agency in 2019 that "whenever an unexpected company gets ahead of the competition, somebody immediately tries to stop it. No one should expect us to act on unproven claims. Huawei has been a business partner of ours for a long time. We will continue to work with Huawei" and support the Chinese company. 
Hotel customer information is used for various purposes in Turkey. If someone who is being sought by authorities stays at a hotel, the system automatically issues an alert and law enforcement comes to detain the suspect. It is very common in Turkey that people who are unaware that detention warrants have been issued for them are detained at midnight while staying at a hotel. 
As it happens, hotel records are one of the top keywords Turkish users have searched for in recent years. In particular, people who want to join the civil service or have taken competitive exams for a state job ask in discussion forums whether their hotel records will have an effect on their security clearance, fearing that staying at a hotel with partners who are not their spouses may be evaluated as a reason for disqualification for the job by Turkey's Islamist government.  
Nordic Monitor previously reported that checking hotel records illegally became a way of earning extra money for some corrupt police officers. Husbands or wives who are suspicious of their spouses pay bribes to policemen who have access to the ID Reporting database to find out if he or she checked into a hotel with another partner. Surely, it is easy to learn who has accessed such confidential information from the logs; however, it is also easier to present any search as an investigation into terrorism suspects. 
User manual prepared by the Turkish police for the the ID Reporting System:
kullanim_kilavuzu