Abdullah Bozkurt/Stockholm
Against the backdrop of a vast array of Western sanctions on Russia over the Ukrainian conflict, Moscow has rerouted land transportation through Turkey to circumvent restrictions, a survey of the data shows.
The number of Russian trucks that transported goods to Russia had increased to 10,956 this year as of November 30 as opposed to some 2-3,000 on average in previous years. In the same period, 18,804 Turkish trucks made trips to Russia, carrying various exported goods.
Similarly, the number of Turkish trucks carrying imported goods to Turkey from Russia was 13,648, and the number of Russian trucks on that route was 7,445 in the same period.
The spike in the number of both Russian and Turkish trucks that transported goods to and from Russia came after a protocol signed between Turkish and Russian delegations on May 16, 2022, less than two months after Russia invaded Ukrainian territories.
The meeting, held under the Joint Commission on Land Transportation, saw a sharp change in the Russian position on maximum transit quotas awarded to Turkish truckers. Russian representatives agreed to increase the annual truck quota for the Turkish side from 8,000 to 20,000 for transportation that is destined to end in Russia and from 6,000 to 35,000 for transit transportation to third countries via Russia.
The sharp change in the Russian position on truck permits provided to Turkey is harbinger of more to come as Turkey opted out of joining Western sanctions, remaining the only NATO ally not enforcing punitive measures against Russia. Turkey has become a hub for Russian oligarchs, who have scrambled to keep their wealth and assets intact and parked in Turkey.
The agreement between Turkey and Russia on land transportation:
Turkey_russia_land_transport_agreement

Although Turkish commercial trucks face an annual cap on the number of travel certificates for Russia, there is no corresponding cap on the Turkish side for Russian trucks. That means Russia can send as many trucks as it wants to and through Turkey without any limits.
The quick changes in regulations on land transportation followed a bilateral agreement on land transportation that was signed in Moscow by Turkey and Russia on November 6, 2020 that was still restrictive on truck permits. The agreement was approved by Russia but remains in the midst of the parliamentary approval process on the Turkish side. Turkish President Recep Tayyip Erdoğan sent the agreement for approval to parliament on the day Russia launched its invasion of Ukraine.
However, neither side wanted to wait for the agreement to be finalized legislatively and made significant changes using the joint mechanism by government representatives. The agreement, which has no expiration date, already gives the competent authorities the ability to regulate the land transportation of goods and people as they mutually agree. The transportation has also been facilitated by the introduction of electronic transit documents and the annual automatic renewal of permit caps.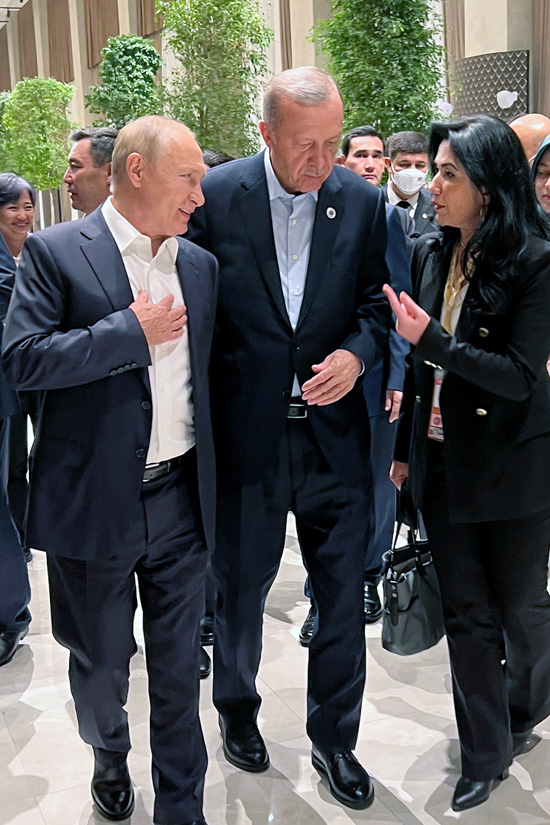 The opposition in Turkey is concerned that the timing for the approval of the land transportation agreement may not be good considering that Turkey has already faced a barrage of criticism in the West for not joining the sanctions on Russia and was also accused of undermining them. The issue was raised during deliberations on the agreement in parliament's Foreign Affairs Committee on December 13. Lawmaker Utku Çakırözer expressed the concern that Turkey may be considered a sanctions buster and be punished for it.
"Even if we are not a party to the sanctions, we say at every opportunity that we should avoid being perceived as a country that violates or exploits the sanctions," he said. However, the government representatives rejected the lawmaker's concerns.
According to Deputy Foreign Minister Faruk Kaymakçı, Turkey has already rejected a number of proposals from Russia that could amount to violations of Western sanctions but complained about the pressure from the EU on individuals and companies that invest in Turkey. He declined to provide exact figures on the number of people and companies that the EU has raised as sanction busters in Turkey but said talks between the Turkish and EU sides were ongoing.
Kaymakçı lamented that the EU had not involved Turkey in discussions before announcing a number of sanctions packages since the Russian invasion and said the situation could have been different if Turkey had been at the table, suggesting that Ankara may very well have played an obstructionist role in preventing and diluting punitive measures adopted by the bloc. He also accused Greece, without naming it explicitly, of raising Turkey's position on Russia at EU meetings.
Turkish president's letter to parliament that asks for the ratification of the land transportation agreement with Russia on the day Moscow launched its invasion of Ukraine, February 24, 2022:
Erdogan_letter_on_ratifying_agreement_with_Russia

Murat Baştor, a department head at the Transportation and Infrastructure Ministry, said Turkey is an important player in land transportation and logistics and carried out some 1.5 million truck transports in 2021. He said he had not seen any negative effects of the enhanced agreement with Russia on increasing the number of permits.
Turkey's position on sanctions was red flagged by European Union foreign policy chief Josep Borrell in a letter to the EU Parliament according to a German media report on December 11. Borrell said Turkey's continued policy of "not joining the EU's restrictive measures against Russia" and  the deepening economic ties between Turkey and Russia is "a cause for great concern." He warned that Turkey should not offer Russia any workarounds to sanctions.
Five days later, Erdoğan fired back at Borrell, branding his remarks as "very ugly."
"Borrell can't define and formalize our relations with Russia. He has neither the qualifications nor the ability to make such decisions. Who is he to assess our ties to Russia with respect to sanctions?" the Turkish president said.
Hiwever it is not just the EU that has been raising Turkey's position with Russia on sanctions. On December 15, Ambassador James O'Brien, the head of the US State Department's Office of Sanctions Coordination, said the US will take action against lack of compliance with Russia sanctions in Turkey. "We have been extremely clear with both the Turkish government and with the Turkish private sector that we expect compliance with the sanctions," he said, adding that "we're very clear that where our interests require us to enforce our sanctions we will, and we will impose sanctions as needed."
The Erdoğan government publicly and repeatedly announced that it would not join the Western sanctions on Russia, a policy that helped many Russians to use Turkey as an outlet to escape punitive measures.