Levent Kenez/Stockholm
Selçuk Bayraktar, the son-in-law of President Recep Tayyip Erdoğan and chief technology officer of Baykar Makina, which produces Bayraktar TB2 military drones, said on a television program on Wednesday that Turkey's drone and unmanned  fighter jet projects would fail if there is no political backing, putting his support behind the current government before the upcoming elections in 2023.
Stating that the drones they produce are the world leader in their class, Bayraktar said if the government loses interest in the projects, there is a risk of losing its leadership in the world.
He also said the same fate would be seen if a government with a different agenda takes office, referring to the opposition parties, which are often accused by Erdoğan of being under the influence of foreign powers.
Bayraktar, who cited the country's indigenous automobile, the Devrim, that Turkey had produced in 1961 but could not put into mass production because it could not find the necessary economic and political support, claimed that the groundwork had been laid for the same fate for the military drone and  unmanned fighter jet projects.
According to Bayraktar, if the main goal is not to produce the most advanced technology domestically, it is not possible for Turkey to be independent. Saying the fact that he and his brother were given a state medal by Azerbaijan is proof of how useful the drones are, Bayraktar added that if Turkey had imported the armed drones they would not have been successful in the fight against terrorism.
President Erdoğan sees Baykar as a family business and markets its products in many countries, especially in Africa. It is no secret that Erdoğan, his family members and his business associates benefit immensely from the defense industry and military equipment sales. Baykar takes advantage of all state facilities but also earns high profits in the local and international market with the sale of weapons, for which the only decision-maker is Erdoğan. An important reason for choosing Turkish drones is that Turkey does not have a long export approval process unlike the US and the European Union. 
President Erdoğan, at a graduation ceremony for naval cadets on Thursday, said the Turkish army is much stronger with armed military drones produced by Baykar.
Military experts told Nordic Monitor that Bayraktar drones are a good product in the mid-range drone class but say they are not entirely made of indigenous parts as claimed, stating that imported products from various supply chains constitute critical parts. They also state that the years-long experience and knowledge of the Turkish Armed Forces in drone projects now benefits Baykar. Experts claim Bayraktars could not achieve the desired goals in areas with a strong air defense systems but that it is an ideal weapon to use in the fight against terrorism.
Nordic Monitor previously reported that Bayraktar armed drones performed poorly in Libya and were an easy target for ground fire. According to a report submitted to the UN Security Council by the Panel of Experts on Libya on March 8, 2021, Bayraktar TB-2 armed drones "were easily destroyed in the air by the Pantsir S-1 air defense system," which was supplied by the United Arab Emirates and later Russia.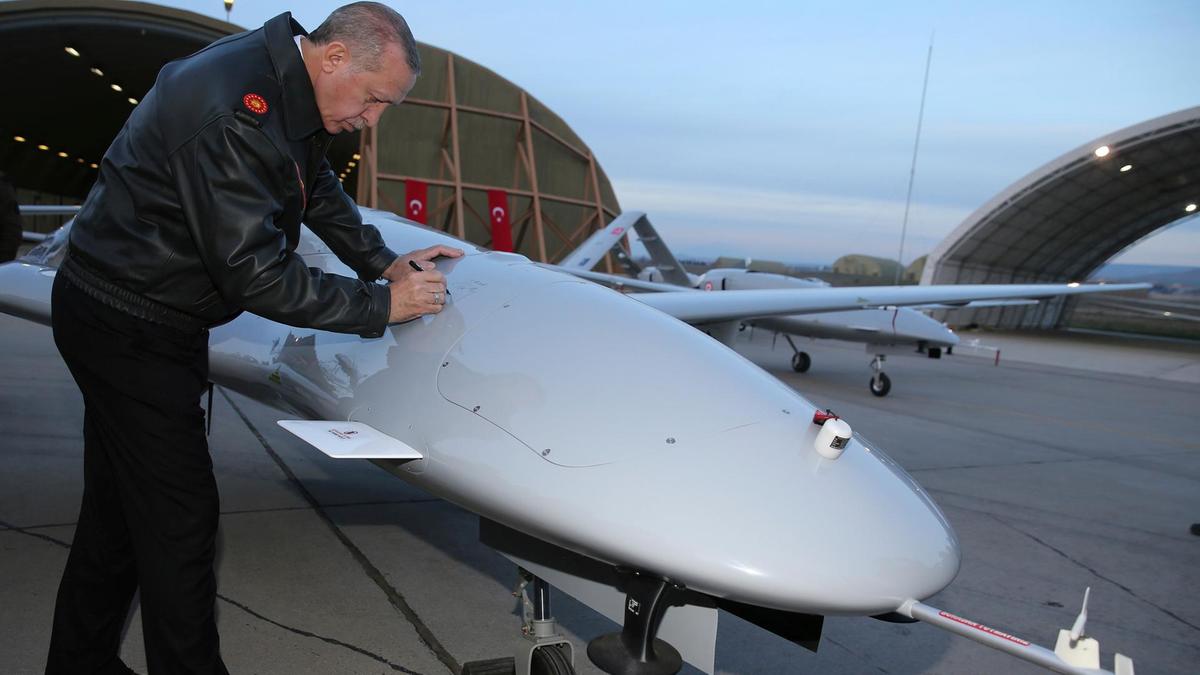 The Ukrainians consider Bayraktar drones one of their most useful weapons in the war with Russia. The Ukrainian people even collected money among themselves to buy Baykar drones for the Ukrainian Army. Baykar announced in June that it would give three drones to Ukraine and wanted the donors to spend the money collected for humanitarian needs.
Haluk Bayraktar, the CEO of Baykar Makina, accompanied President Erdoğan on a visit to Ukraine on August 19.
Under a new agreement signed during an official visit by Erdoğan to Kyiv in February 2022, Ukraine will allocate land for a Bayraktar TB2 UAV production facility for 49 years and provide a number of incentives. Parts and materials used in the production of the UAVs will be exempted from duty, and all financial and personnel information regarding the new facility will be kept confidential.
In addition to the UAV factory, a training center will also be built. Baykar will be exempt from income tax for 10 years due to its investments. The expiration of the agreement is January 1, 2035.
For Baykar, which currently uses engines from Ukrainian companies Ivchenko-Progress and Motor Sich in the military drones they produce, the production facility in Ukraine will also provide convenience in terms of logistics and time.