Abdullah Bozkurt/Stockholm
The Iran desk at Turkey's national intelligence agency MIT was intentionally gutted in the aftermath of several police investigations that exposed how senior government officials including then-prime minister and current president Recep Tayyip Erdoğan were in bed with Iranian operatives.
The first investigation, made public on December 17, 2013 by prosecutors, revealed how three ministers helped facilitate Iranian sanctions buster Reza Zarrab to move funds from Iran through Turkish state banks in exchange for multi-million dollar bribes. The scheme, apparently sanctioned by Erdoğan himself, laundered billions in violation of Turkish and US law.
Turkish intelligence already knew the confidential probe pursued by prosecutors into government officials had red-flagged Zarrab as a threat to national security. The report, submitted to the government eight months before prosecutors made the case public, warned that Zarrab's contacts with state bank officials and cabinet ministers in moving funds from Iran would put Turkey at odds with its ally, the United States.
Ali Babacan, then-economy czar who was in charge of state banks, was tipped off about Zarrab's illegal activities and knew about the MIT report but instead simply ignored it and did not act to hinder Iran's clandestine operations that involved the Turkish financial and banking system.
When the information surfaced on January 5, 2014 showing that MİT had in fact warned the government of the bribery-based relations between Zarrab and the ministers eight months before the operation, Erdoğan was furious. He instructed Hakan Fidan, a pro-Iranian Islamist he put in charge of MIT in 2010, to gut the Iran desk at the agency and remove intelligence agents who were monitoring destructive Iranian activities on Turkish soil.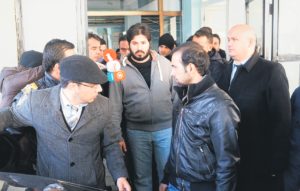 The second investigation launched by public prosecutors in 2011 into the Islamic Revolutionary Guard Corps (IRGC) Quds Force network in Turkey also revealed how Fidan and other government officials including Erdoğan's two personal advisors were secretly working with Iranian handlers. The probe even led to the discovery of a mole in MIT planted by Iranian intelligence to siphon off classified information for Iran.
Both operations were hushed up by the Erdoğan government, which later removed police investigators, prosecutors and judges who were involved in the criminal investigation of senior government officials over graft probes and links to Quds Force cells in Turkey.
Fidan, who got a green light from his boss, Erdoğan, initiated a purge of agents from the spy agency, especially from the Iran desk. Most were immediately reassigned, required to stay away from field work, sent to a distant post or appointed to low-level positions that had nothing to do with their expertise and background. They were later dismissed, and some were even jailed on bogus charges.
According to confidential documents obtained by Nordic Monitor, 181 MIT agents faced administrative action between December 17, 2013 and July 15, 2016. Of these, 81 agents were relegated to low-level positions, and 84 who had come to work for the spy agency from the police and military on temporary assignment were sent back after their assignments were abruptly cancelled.
Because of the relatively strong rule of law protections embedded in labor laws at the time, MIT managed to dismiss only 13 agents, many in administrative procedures, such as retirement, non-renewal of contracts or refusal of recruitment for entry-level candidates after a probationary period. The rest fought off demotions, reassignments and dismissals by filing lawsuits which in most cases ended in rulings in their favor.
However, in the aftermath of a July 15, 2016 false flag coup attempt when Turkey was under a state of emergency, Erdoğan and his confidant Fidan simply ignored laws on administrative and criminal procedures. Many agents were summarily dismissed with no effective recourse to remedy the government's unlawful actions in the state of emergency climate.
In that period, Fidan succeeded in taking action against 377 agents and purged most of them without bothering to show any evidence of wrongdoing supposedly committed by the agents. In total, 558 agents or some 7 percent of entire MIT force, were purged by the Erdoğan government.
The purge even claimed junior officers who were in essence rookies, which showed how Fidan, who had a personal stake in covering his tracks, was in a panic and did not want to take any chances.
One of those junior intelligence officers was 34-year-old Mehmet Barıner, who used to work on the Iran desk before the purge. Barıner, a lawyer by profession, closed his practice and joined the spy agency in July 2012 and trained for six months at the agency's academy before he was posted to the Iran desk of the Middle East Department, which is run by the Directorate for Counter-intelligence (istihbarat Karşı Koyma, İKK, Başkanlığı Ortadoğu Dairesi İran Şubesi).
Mehmet Barıner's statement according to the indictment: 
Mehmet_Bariner_agent_Iran_desk

Immediately after the Zarrab scandal, which incriminated Erdoğan and his inner circle, Barıner was reassigned to a low-level position in a department that monitored Turkish-based international organizations and their employees in the same directorate. Two months later, he was sent to another department that deals with open-source intelligence gathering. That did not last long, and he found himself shipped off to a remote post in Cizre.
In August 2016 he submitted his letter of resignation, but the agency suspended him in November and purged him a month later before processing his resignation. That was not the end of his troubles, either. He was arrested on August 18, 2017 and put in pretrial detention. He was indicted and tried on espionage charges as well as membership in the government-critical Gülen movement. At the end of a sham trial, he was convicted and sentenced to serve 21 years, three months in prison.