Abdullah Bozkurt/Stockholm
A Turkish national who was convicted and served time in the US for helping the Iranian military procure sanctioned goods got back into business in Turkey after his deportation, a Nordic Monitor investigation has found out.
According to a Turkish trade registry filing published on January 12, 2021, Reşit Tavan, the owner of several shell companies in Turkey, submitted an internal circular on holding board meetings for Ramor Dış Ticaret ve İnşaat Yatırım Anonim Şirketi, a foreign trade and construction firm that was the subject of sanctions and an indictment in the US.
Although several companies he helped established had Iranian and Iraqi nationals as partners, Tavan has been the sole owner of Ramor since it was first set up on October 3, 2012 under the name of Ramor Dış Ticaret Limited Şirketi. The quick changes in the firm's location, its business classification and even its legal status all point to a scheme that it has operated as a front company on behalf of Iranian handlers.
Eight months after its establishment, the company moved its office from the high-rise Skytowers in Istanbul's Alaşehir district to Gardenya Plaza in Ataşehir. On August 20, 2015 Tavan changed the company's name to Ramor Yapi İnşaat Yatirimlari Limited Şirketi, switched its business classification from foreign trade to construction and increased its capital.
Two months later, he changed its name again to include foreign trade and made it Ramor Diş Ticaret Ve İnşaat Yatirim Limited Şirketi. On April 22, 2016, a year before he was extradited to the US, he changed the company's status from a limited stock company to a general trading corporation, which gave him more room to maneuver in his business activities. Until January 2021, no changes were reflected in the official trade filings, which was not unusual given legal troubles with the US authorities that landed him in prison in Wisconsin, forcing him to take a break.
While he was running clandestine business activities on behalf of Iran under the protection of the pro-Iranian Islamist government of President Recep Tayyip Erdoğan, who repeatedly and publicly declared that Turkey would not help its NATO ally in enforcing the sanctions, American authorities had been watching and taking note of his activities. In fact, on one occasion he was even personally confronted by a US official who warned him about his illegal exports from the US. He just shrugged the warning off and continued doing business with the Iranian military.
His impunity in Turkey did not help him abroad, however. Tavan was indicted on June 27, 2017 by US federal prosecutors for conspiring to defraud the US and smuggle American-made products to Iran. The indictment alleged that marine goods such as outboard motors, generators and propulsion systems that were manufactured in Wisconsin were shipped first to Turkey and then to Iran without the knowledge of the manufacturers and without a license from the US government.
January 2021 filing by Reşit Tavan indicates he is back in business after serving time in the US:
Resit_Tavan_Ramor_Jan_2021_filing

The marine products were intended for developing high-speed missile attack boats for the Iranian military or naval forces. In cooperation with Iranian officials, Tavan used his company to purchase goods between 2013 and 2015 and sent them to Iran after receiving the shipments in Turkey. He was secretly working for the Iranian-based Qeshm Madkandalou Shipbuilding Cooperative, which was believed to be close to the Iranian military.
Tavan's firm signed a deal in 2013 to buy two high-powered 557 outboard motors from the Wisconsin-based Seven Marine for a total of $200,000. He claimed the engines were for use in Turkey only. According to the indictment, in 2014 Tavan was warned by a US Commerce Department agent who met him in person. Tavan ignored the warning and kept purchasing more marine equipment for Iranian clients. In 2015 he bought Kohler Marine generators and Arneson marine power propulsion equipment. The invoices and email messages, obtained by federal investigators, revealed the plot.
The US issued an international arrest warrant for Tavan, but the Erdoğan government refused to execute the warrant. He was arrested on June 8, 2017 when he was going through customs in Romania and unsuccessfully fought extradition. The Turkish Embassy in Bucharest lobbied to get him back to safety in Turkey, helped him hire a former justice minister of Romania as his defense attorney and even managed to get a ruling against extradition in the court of first instance. But the appeals court overruled the judgement and cleared the way for his extradition to the US. On December 11, 2017 he was formally arrested during his arraignment in federal court in Milwaukee after Romanian authorities turned him over to the US, balking at the Turkish government's request.
While in prison pending trial, he tried to secure his release to house arrest, but the US prosecutors made a convincing case with the judge that if he were able to get back to Turkey, he could not be extradited. He remained in prison until the proceedings were concluded. Turkish officials took a keen interest in his case, sending consular officers from Chicago to attend the hearings.
Trade filings made by Reşit Tavan for various shell companies in Turkey: 
Resit_Tavan_trade_filings_all_firms1

The US law titled International Emergency Economic Powers Act (IEEPA) bars shipment of American goods to Iran without prior approval by the US government. In addition to violation of the IEEPA and conspiracy charges, Tavan also faced smuggling and money laundering accusations, which could have placed him behind bars for the rest of his life.
The case was investigated by the Federal Bureau of Investigation (FBI) and the US Department of Commerce, Bureau of Industry and Security (BIS), Office of Export Enforcement, and prosecuted by Assistant United States Attorneys Paul L. Kanter and Keith Alexander and tried by William Mackie of the US Department of Justice.
On April 2, 2019, faced with overwhelming evidence and the prospect of a long prison sentence, Tavan cut a deal with federal prosecutors and pleaded guilty to conspiracy to violate the IEEPA, saving himself from the lengthy sentence he would most likely receive on additional charges. The Federal District Court in Milwaukee sentenced him to 28 months' imprisonment on August 29, 2019. US District Judge Pamela Pepper ruled to release and deport him to Turkey given the fact that he had already spent 20 months in the Waukesha County Jail.
Ruling by the Bureau of Industry and Security (BIS), Department of Commerce, that barred Tavan from exporting from the US for 10 years: 
Resit_Tavan_penalty

Legal troubles were not his only headache. The BIS, Department of Commerce, also ruled in an administrative decision to bar Tavan from any export privileges from the US for the next 10 years and rejected his appeal to avoid such a penalty. Karen H. Nies-Vogel, director of the Office of Exporter Services, decided that Tavan cannot participate in any way in any transaction involving any US goods. The penalty will remain in effect until August 29, 2029.
"Any other person, firm, corporation, or business organization related to Tavan by ownership, control, position of responsibility, affiliation, or other connection in the conduct of trade or business may also be made subject to the provisions of this Order in order to prevent evasion of this Order," Nies-Vogel stated.
That meant Tavan and his associates would have a hard time conducting any business with US firms directly or indirectly for a decade even if he were to get back into business in Turkey.
In the meantime, Fulya Kalafatoğlu Oğuztürk, Tavan's co-defendant, a Turkish national and manager at Ramor, was also indicted by US prosecutors, but she remains at large in Turkey, protected by the Erdoğan government.
Trade registry data shows that Tavan had shares in three companies that were liquidated soon after their establishment. One was Grt Gemi Sanayi İnşaat Ve Ticaret Limited Şirketi, a shipping, construction, industry and trade firm that was set up on May 21, 2012 by Tavan and three Iranian nationals named Rohollah Jozevosoghl, Reza Almasi and Gholam Pakoohl Gheshmi. The company was dissolved on August 1, 2017, suggesting that it was a shell company established for a specific purpose, for a short period of time, and had completed its mission.
The second shell company Tavan helped set up was mining firm Gatar Madencilik Sanayi ve Ticaret Limited Şirketi, on February 4, 2013. He had four Turkish partners in the company –Tahsin Kaya, Serhat Karabıyık, Abdurrezak Araz and Zehra Tavan. The company dissolved itself on November 18, 2013, only nine months after it was established in Istanbul.
The third defunct company Tavan was involved with was Ramor İnşaat Gıda Tekstil Petrol Mobilya Sanayi ve Ticaret Limited Şirketi, an oil, food, textile, construction and furniture firm. His partners were two Iraqi nationals named Raad Ismeaeel Ameen Al Gharrawi and Qahtan Arkam Mousa. The company dissolved itself on October 13, 2017.
Another company Tavan owns listed its business activities in the food and construction sectors under the name of Focus Gıda ve İnşaat Sanayi Ve Ticaret Limited Şirketi. It was set up on October 20, 2014, and Tavan has always been the sole owner. It is still active according to trade registry records.
The first company Tavan established in Turkey, on March 16, 2010, was Asha Grup İnşaat Madencilik Petrol Gida Tekstil Sanayi ve Ticaret Limited Şirketi with an Iranian partner identified as Morteza Dehghani from Tehran. It listed oil, mining, food, construction and textiles as sectors for its business activities. Tavan later left the company, but it is still active according to December 2019 filings which indicated that two Iranian nationals, Alireza Shokri and Mohsen Avari, are equal owners.
The company changed its name to Asha Paslanmaz Çelik İnşaat Sanayi ve Ticaret Limited Şirketi, a firm dealing in stainless steel, in January 2019 and changed it again to Asha Film Yapimcilik Ticaret Limited Şirketi, a film and production company, in June of the same year. Quick changes and transfers among unrelated business fields also indicate that Asha operates as a shell company as well.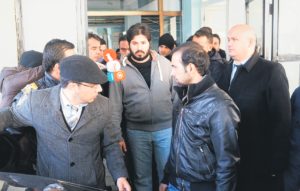 Tavan is not the only operative that was used by Iran and who enjoyed the permissive environment provided by the Turkish government when it comes to sanctions busting schemes and Iran. A damning revelation was made when a corruption case involving Turkish Iranian national Reza Zarrab, who bribed senior government officials including cabinet ministers and cultivated personal ties with Erdoğan, was made public on December 17, 2013. Dozens of suspects including Zarrab were detained and later arrested for violating several Turkish laws.
Erdoğan, who was incriminated in the probe, stepped in to derail the prosecution and helped release all the suspects after he orchestrated the removal of the lead prosecutors and investigators in the case. All suspects including Zarrab were later acquitted by new judges who were brought in to oversee the case by the Erdoğan government.
However, Zarrab was arrested by the FBI in Miami in 2016 and charged by the US Attorney for the Southern District of New York with engaging in hundreds of millions of dollars' worth of transactions on behalf of the Iranian government, money laundering and bank fraud. He cut a deal with prosecutors and decided to cooperate in a US federal case that exposed the role of Erdoğan, who had instructed Turkish state banks to participate in the multi-billion dollar scheme in exchange for kickbacks.
At the end of the trial, Mehmet Hakan Atilla, the deputy general manager of state lender Halkbank, was convicted and served time before returning to Turkey. The co-conspirators who were indicted by the US federal prosecutors including former Economy Minister of Turkey in the Erdoğan cabinet remain beyond reach.